The world of traditional Indian art and art forms is a diverse one; from the Pahari school of painting from Jammu to the precious Tanjore paintings of the South — the indigenous art forms of India give you a glimpse of everything. Meanings and beliefs are imbibed in these art forms differ but there is a common thread that binds them together – impeccable artistry. Read on to know more about the 7 indigenous art forms of India:
1.Madhubani Painting
What distinguishes Madhubani art the most is a brimming canvas and an array of colors! These paintings are often referred to as Mithila art from the village of Madhubani in Bihar as it has its origin in the wedding of Sita in Mithila. Madhubani painting, often religious in theme, was mostly created by women and each and every motif has a relevant significance behind its depiction.
2.Tanjore Painting
For their use of precious metals, golden foils, glass beads, and elaborate gesso work, Tanjore or Thanjavur paintings can be considered one of the most popular art types in India. These famous Tanjore paintings emerged in Tamil Nadu in 1600 AD Thanjavur and celebrate Hindu gods and goddesses.
3.Pattachitra Painting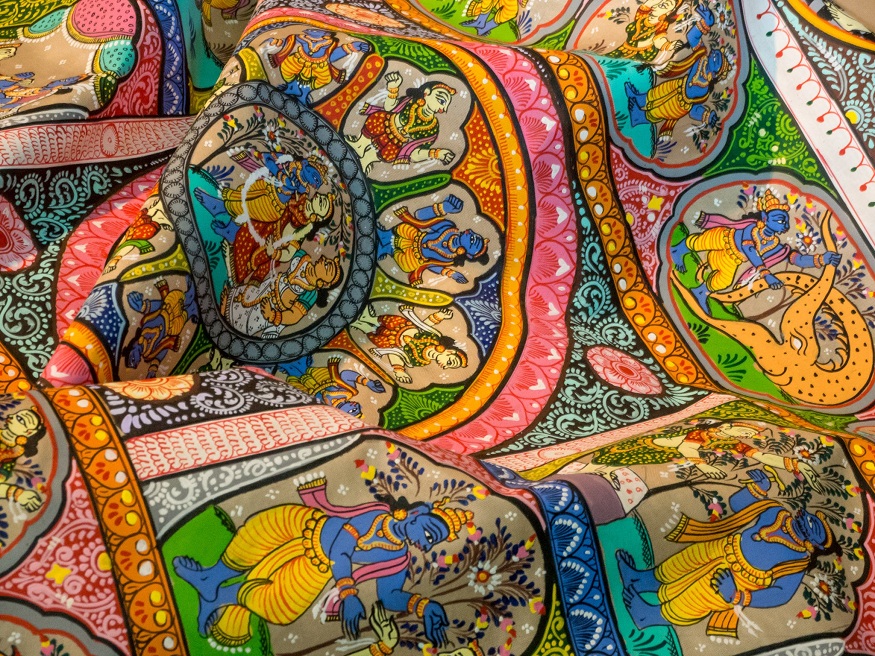 Pattachitra painting, probably one of the most time-intensive and detailed paintings, essentially means paintings on cloth. These paintings originated in Odisha and West Bengal; Pattachitra art has been used for various Lord Jagannath-related customs and plays a crucial role in temples till today, which is otherwise used as a temple tourist souvenir. As compared to Odisha, Pattachitra paintings have a different use in West Bengal, as Bengal pattachitra was used for storytelling purposes.
4.Kalighat Painting
In the 19th century Calcutta, Kalighat painting developed along the banks of Kalighat Kali Temple as religious paintings that the worshippers, who visited the temple, took away as souvenirs. These paintings, an extension of the Pattachitras, stand out due to their use of vibrant colours and a simple backdrop. Kalighat art has religious imagery that has often developed into day-to-day modern themes.
5.Pichwai Paintings
Pichwai painting is considered a sacred painting that is hung behind Shrinath Ji's idol, often rendered exquisitely on clothing. Pich, as the name implies, means back and waimeans hanging. Pichwai art is an ode to the form of Lord Krishna's seven-year-old manifestation known as Shrinath Ji; it emerged in Rajasthan's Nathdwara, and many of them portray the mischievous leelas of Lord Krishna.
6.Kalamkari Paintings
Kalamkari art is developed by block printing and hand painting on cotton textiles and it is known as one of the varieties of pattachitra paintings. The term Kalamkari translates into kalam, meaning pen and kari, craftsmanship; it has two distinctive types, Machilipatnam and Srikalahasti. The popular art of kalamkari focuses on natural motifs and epics such as Ramayana and Mahabharata
7.Gond Paintings
Gond painting comes from one of India's largest tribal communities, Gond, and is a creative take on lines and colors, expertly drawn by Adivasis from various parts of India, such as Madhya Pradesh, Maharashtra, Chattisgarh, Andhra Pradesh, etc. The art of Gond is inspired by folktales and the folklore of Gond. This form of painting initially painted on walls and ceilings has made its way into all types of media.